Celebrate the 246th anniversary of our nation's birthday with these 4th of July fireworks displays in Colorado, listed by county. All of these wonderful displays are free to watch, so figure out the best place to see them and arrive early to grab your spot.
Many of these fireworks shows are part of a larger Fourth of July festival weekend. These fireworks displays are usually the highlight of the festival, but due to the high fire risk in many areas, some towns have opted for laser or drone shows instead. However, there will still be plenty of festivities and fun to be had on this holiday weekend.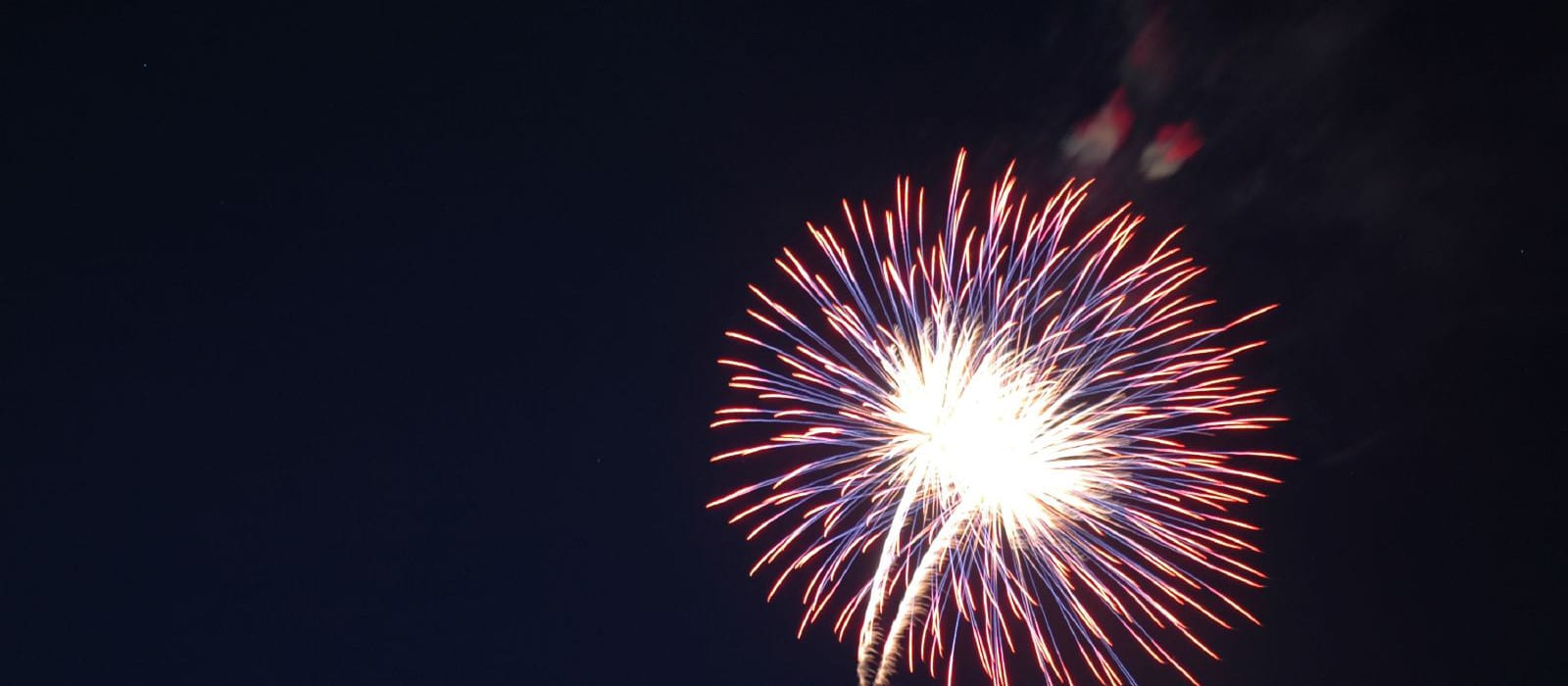 Oooh ahhh…fireworks in Creede, Colorado! Photo by: davedude
We've divided this fireworks list by county, noting the most prominent ones with activities going on. You can learn more about the 64 counties in Colorado and perhaps plan a last minute Independence Day Weekend escape.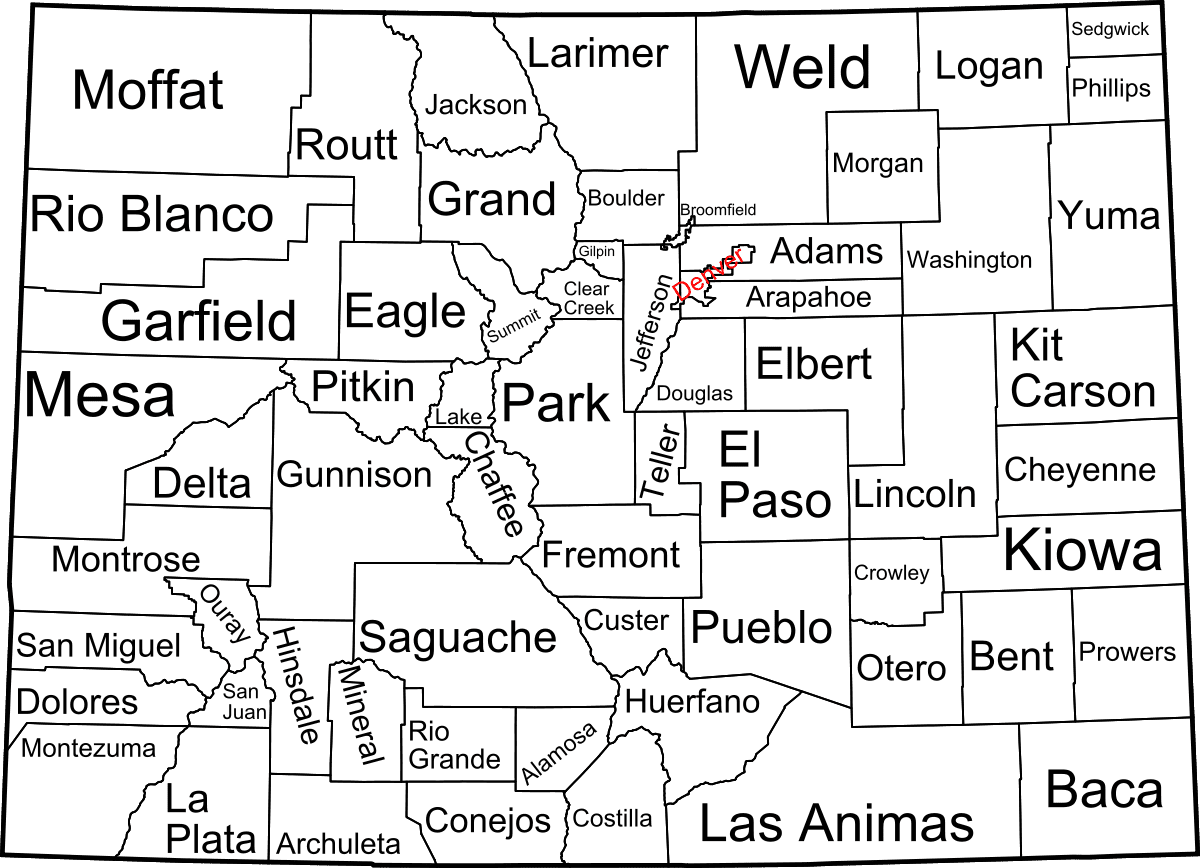 Colorado Counties map.
Here are the best July 4th fireworks in Colorado, by county:
Alamosa County
Alamosa celebrates with their annual Independence Day festivities. Begin with a pancake breakfast, then the 4th of July parade through downtown starting at 10am and fireworks at dusk.
Arapahoe County
Aurora will launch fireworks from Bicentennial Park, with the only designated community viewing spot on the Aurora Municipal Center Great Lawn.
Glendale will start festivities a little bit early, with a community fireworks show on July 1st. Infinity Park will be open to the public for viewing fireworks, and there will be short movies and food trucks to entertain people while they wait for the show to start at dusk.
Archuleta County
Pagosa Springs will host a weekend full of events leading up to Independence Day. There will be a festival and craft fair in the park, the Red Ryder Rodeo, plenty of live music, and fireworks at 9:30pm on July 4th.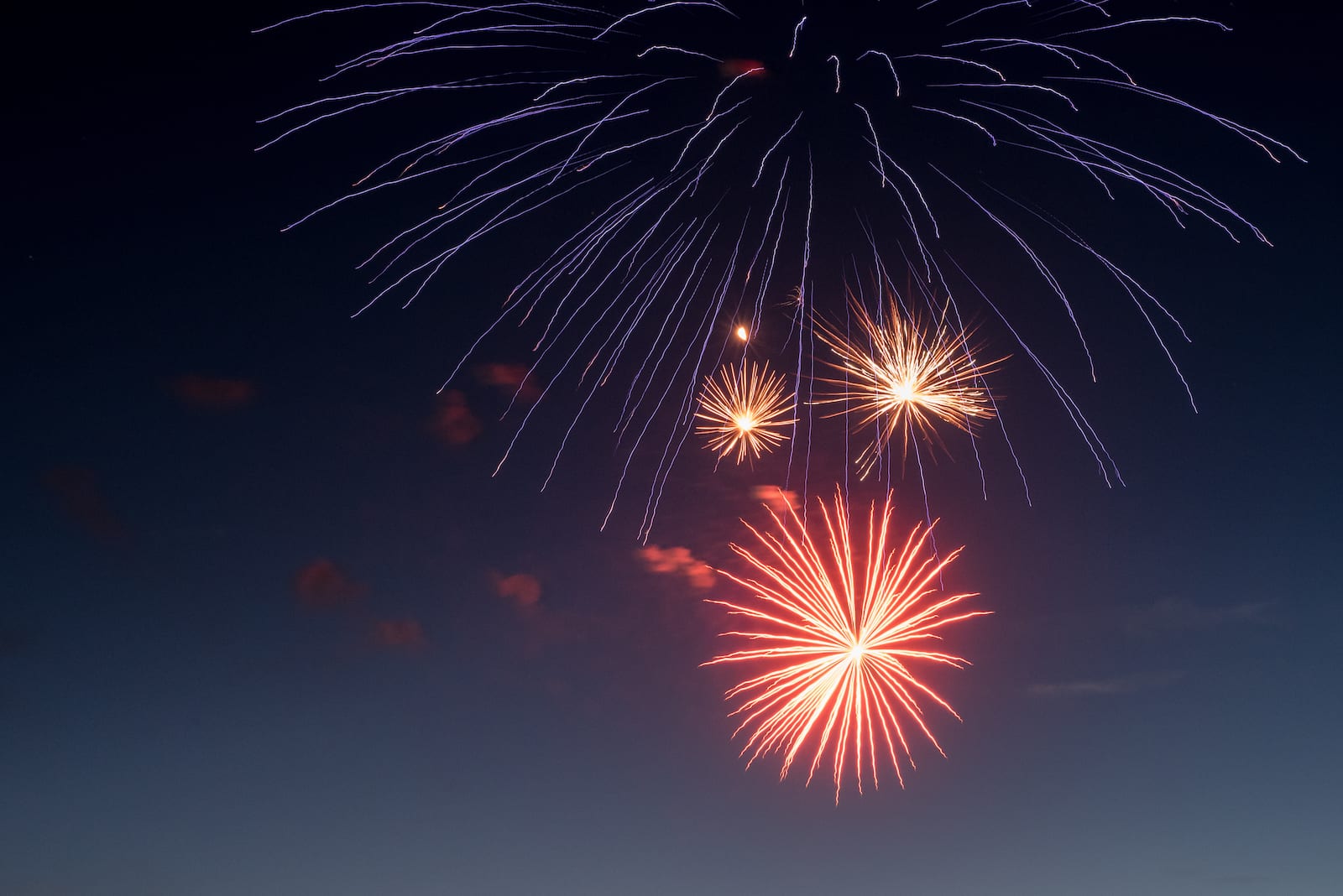 Fourth of July fireworks in Pagosa Springs, CO. Photo by: Joshua A Cole
Chaffee County
Buena Vista will host their Independence Day celebration with a jam-packed day. Activities include a Freedom 5k, a craft fair in the park, a Firecracker walk, and even a beer garden to enjoy before the fireworks show ends the night on July 4th.
Poncha Springs will host a parade filled with community-made floats and a fireworks show to round out the day.
Salida has a full event schedule from noon-10pm in Riverside Park. There will be a parade, live music, food vendors, and more.
Custer County
Westcliffe starts the day off with a pancake breakfast and small parade through town. In the afternoon there will be a craft market and Hi Altitude Horsepower Car Show to explore before the fireworks show over the DeWeese Reservoir at dusk.
Delta County
Paonia celebrates the holiday weekend with their annual Paonia Cherry Days festival. There will be live music on Friday night, followed by a full Downtown Day featuring community contests, a beer garden, and vendors. Sunday and Monday will host a variety of contests, a parade, dancing, and finally fireworks.
The town of Delta will host its annual fireworks display on July 4th at Confluence Park.
Douglas County
Castle Rock, Parker, and Highlands Ranch will all host a 15 minute synchronized fireworks display on July 4th around 9:30pm. The shows will be shot off from centralized places in the towns, allowing for viewing from multiple spots. A three shot warning will be heard 5 minutes before the show begins.
Castle Rock will launch fireworks from the Santa Fe Quarry butte above the golf course.
Highlands Ranch's show will originate at the Mountain Vista High School.
Parker will send up fireworks from south of the Pinery.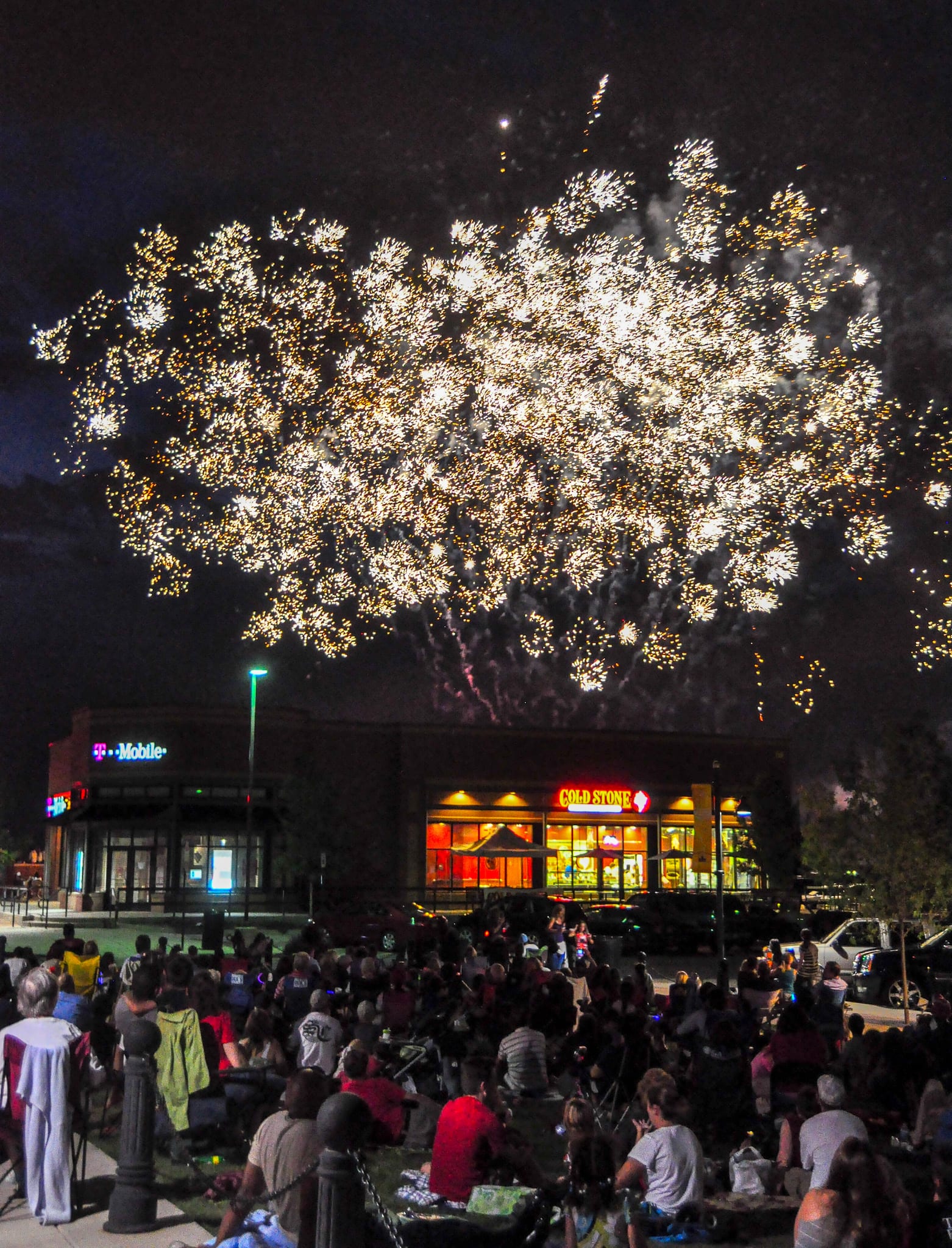 Highlands Ranch Town Center fireworks, Douglas County, CO. Photo by: Kent Kanouse
Eagle County
Avon's Harry Nottingham Park will be packed with activities starting at 5pm on July 3 for their Annual Salute to the USA. Stilt walkers, magicians, plenty of fair food, music, and an exciting laser show are just a few of the many fun events planned.
Eagle will start the day off with a family bike parade, so decorate your bikes and join the procession down Capitol Street. The parade will end at Brush Creek Park for a party featuring food vendors, kids' activities, live music, and more.
Gypsum has an evening of fun events planned for the community. Starting at 7:30pm there will be live music, free hot dogs, and lawn games at Lundgren Amphitheater Field. The night will end with a specially choreographed drone show in place of fireworks.
Minturn kicks off the areas' holiday celebrations with a block party on Friday July 2nd. The first farmers market of the year will be held, filled with crafts, local produce, and food trucks. There will also be a mechanical bull, face painting, and more at Little Beach Park.
Vail will host a full day of live music, a parade with the theme Red, White, and Blues, and finally a drone show to wrap up the night.
El Paso County
A variety of locations in the greater Colorado Springs area will display fireworks on July 4th. The Colorado Springs Philharmonic will continue its tradition of playing a patriotic concert along with the fireworks display, which can be heard over the radio. Below are the places fireworks will be displayed:
Banning Lewis Ranch
Garden of the Gods Resort
Falcon Freedom Days at Meridian Ranch
The Broadmoor
The Club at Flying Horse
Colorado Springs Switchbacks – Weidner Field
The Country Club of Colorado at Cheyenne Mountain Resort
Rocky Mountain Vibes
Monument and the Tri-Lakes area will start the day with a pancake breakfast at St. Peter Catholic Church, followed by a parade, street fair, and beer garden. Live music will cap off the night, as fireworks are not allowed within town limits.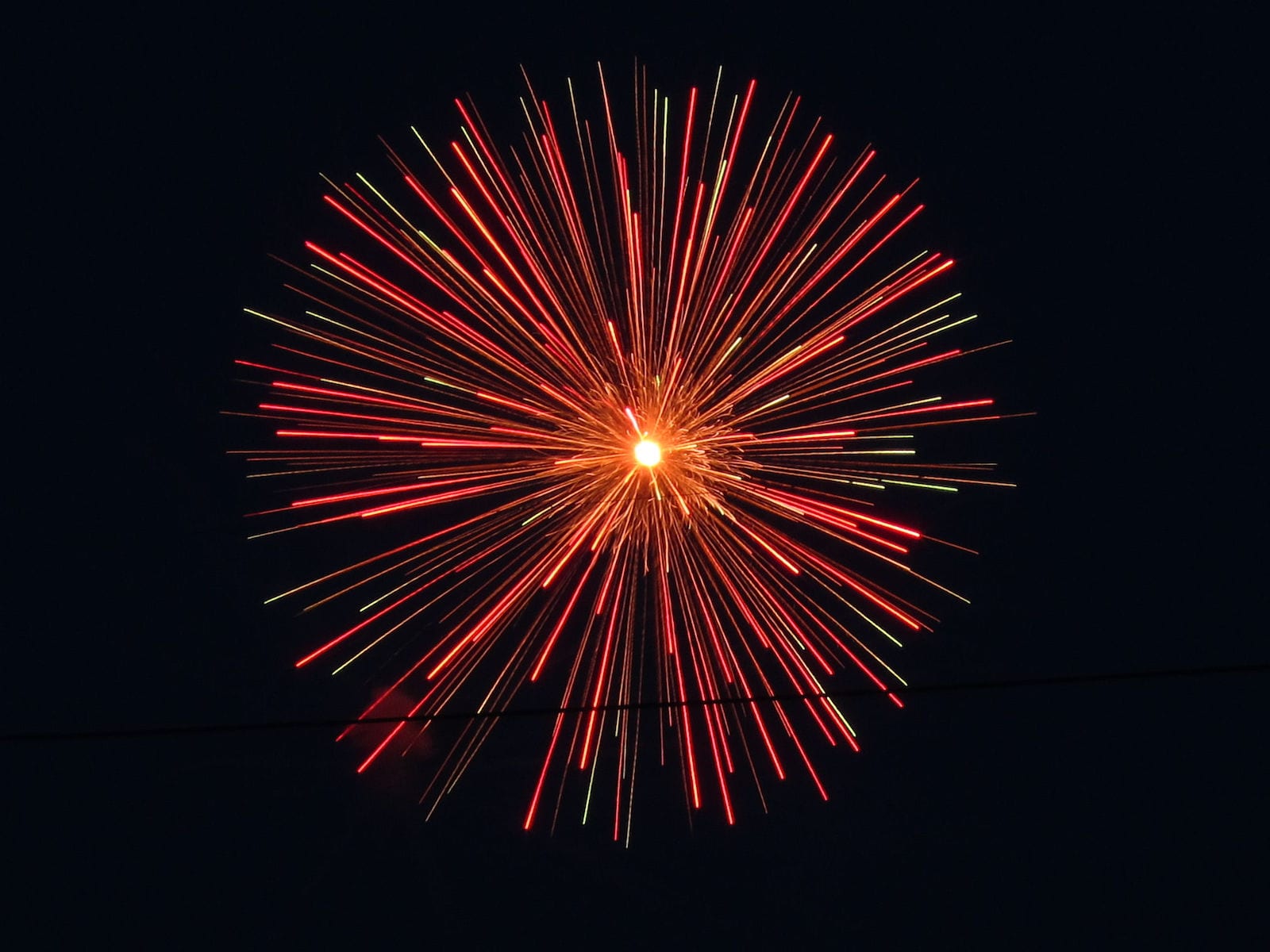 Broadmoor fireworks celebrating the Fourth of July in Colorado Springs! Photo by: Jim Grey
Fremont County
The town of Florence will host its annual Red, White, and Brews Fest, complete with a food truck rally and a fireworks show at dusk on July 4th.
Grand County
Granby pulls out all the stops for its Independence Day celebration. Saturday July 3rd will feature a pancake breakfast, 5k run, community barbecue, and a rodeo. Sunday's events include a bike parade, another rodeo, and a fireworks display, and finally, Monday rounds out the weekend with another parade and rodeo, as well as a party in the park.
Grand Lake puts on a 30 minute fireworks show that can be viewed from anywhere in town or on the lake. The show typically starts around 10pm, so be sure to pack layers and extra snacks.
Kremmling's Fire Up the Cliffs celebration will take place on July 4th. The fireworks will be shot from the center of the cliffs in the Kremmling town square, making the show visible from almost anywhere in town.
Winter Park will host events from June 30th to July 4th, including a camper rig rally, the popular 5Point Film Festival on July 2nd, and a 5k fun run on July 4th.
Gunnison County
Gunnison will continue its annual Independence Day celebration with a fireworks show at 9:30 p.m. on July 4th. They are redesigning the fireworks to go higher using more shells so that the show will be visible from many different places.
Crested Butte has a village of vendors planned for the middle of the day, a parade through downtown ending in a family water fight, and finally, a laser show with a live DJ to accompany. The lasers will not be visible from the whole town and can be best seen from the Red Lady Stage at the CBMR Base Area.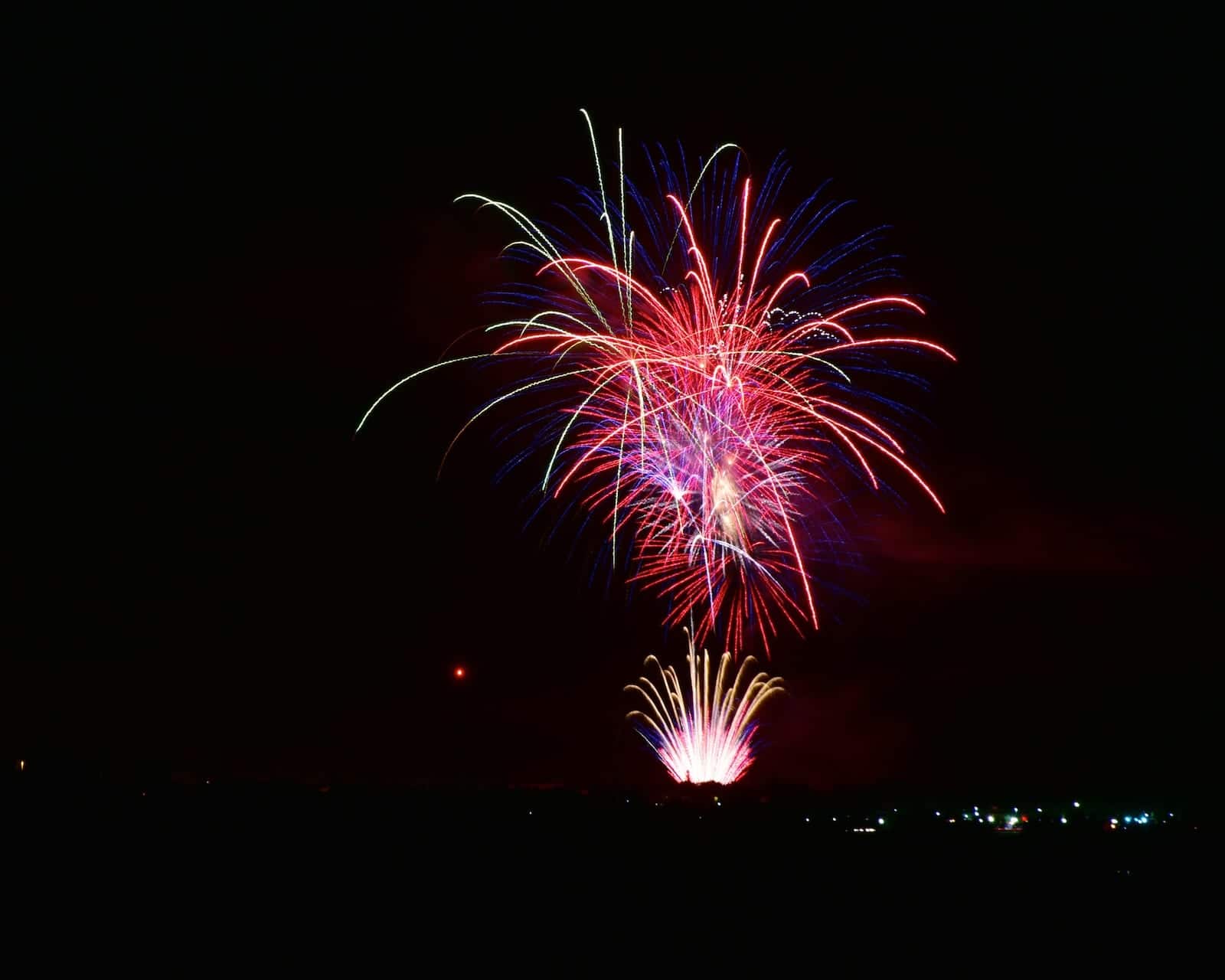 Fourth of July fireworks in Gunnison, CO. Photo by: Larry Lamsa
Jefferson County
Arvada hosts a fireworks show over the Stenger Soccer Complex and other festivities from 7-10pm on July 4th.
Starting at 3pm, Golden will host live music in Lions Park. This family-friendly event will have picnic food for purchase, beer and wine, and a large fireworks display to end the night.
Morrison will host the Jet Car Nationals & Family Festival on July 2nd. There will be a fireworks display at the Bandimere Speedway, music, and drag racing. Festivities start at 3 p.m. with fireworks at 9:45 p.m.
La Plata County
Bayfield has a fun-filled day starting with a pancake breakfast, followed by a parade through town that ends at Joe Stephenson Park. There you'll find a beer garden, horseshoe tournament, food vendors, and a fireworks display at dusk.
Durango will host a community breakfast and 5k run in Rotary Park to start July 4th off. A BBQ lunch will be served at Buckley Park with live music to entertain you until the main parade starts at 5pm.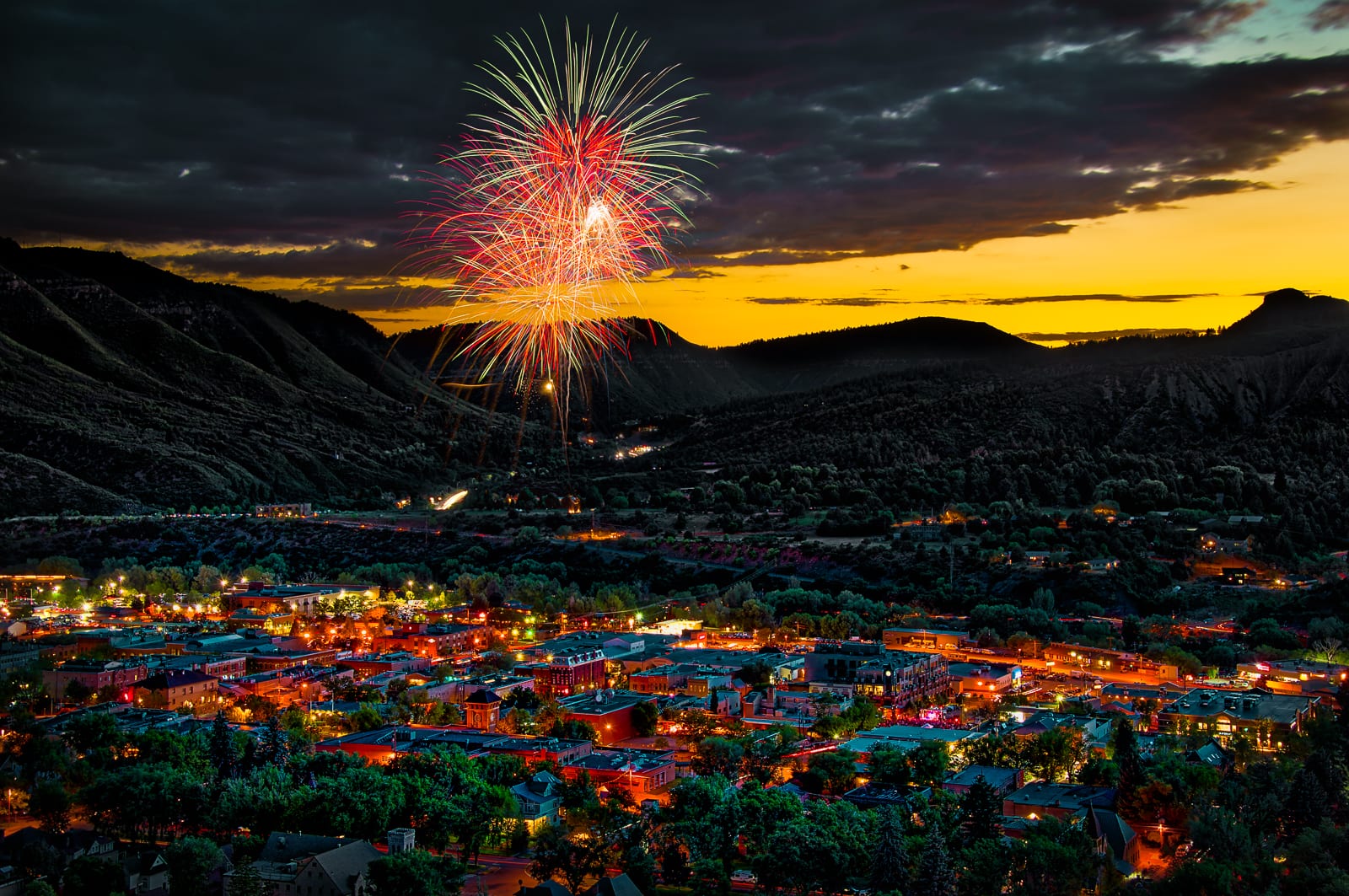 View of 4th of July fireworks overlooking Durango's downtown. Photo by: Howard Ignatius
Larimer County
Waggener Park in Berthoud will host a fireworks display at 9:30pm on July 3rd that will last 20 minutes. Leading up to the show, the park will have a variety of fun activities including laser tag, a live DJ, food trucks, and a kid's zone.
There will be two concerts held to celebrate the 4th of July in Estes Park, one at the Performance Park Amphitheater and one at the Estes Park Fairgrounds. Both will offer great views of the 9:30pm fireworks show, or you can find a spot in Stanley Park to watch the show illuminate Lake Estes.
Fort Collins is hosting a wide range of events on Saturday July 2nd. The day will start with your choice of a golf tournament or a Firecracker 5k run at 7:30am, followed by a parade at 10am. At 3pm there will be live music and food vendors in City Park and a finale fireworks show at around 9:35pm.
Loveland will have activities for any age all day on July 4th in North Lake Park. Festivities include a kid's zone, bike parade, live music, a beer garden, and a fireworks show starting at 9:17pm.
Wellington Community Park in Wellington will be the center of the town's celebrations on July 4th. After a pancake breakfast and a 10am parade down Cleveland Avenue, the park will host a festival until the fireworks display at 9:30pm.
Windsor Lake will host an evening fireworks show for the community, and the marina will be offering concessions and boat rentals for those who want to view the show from the water.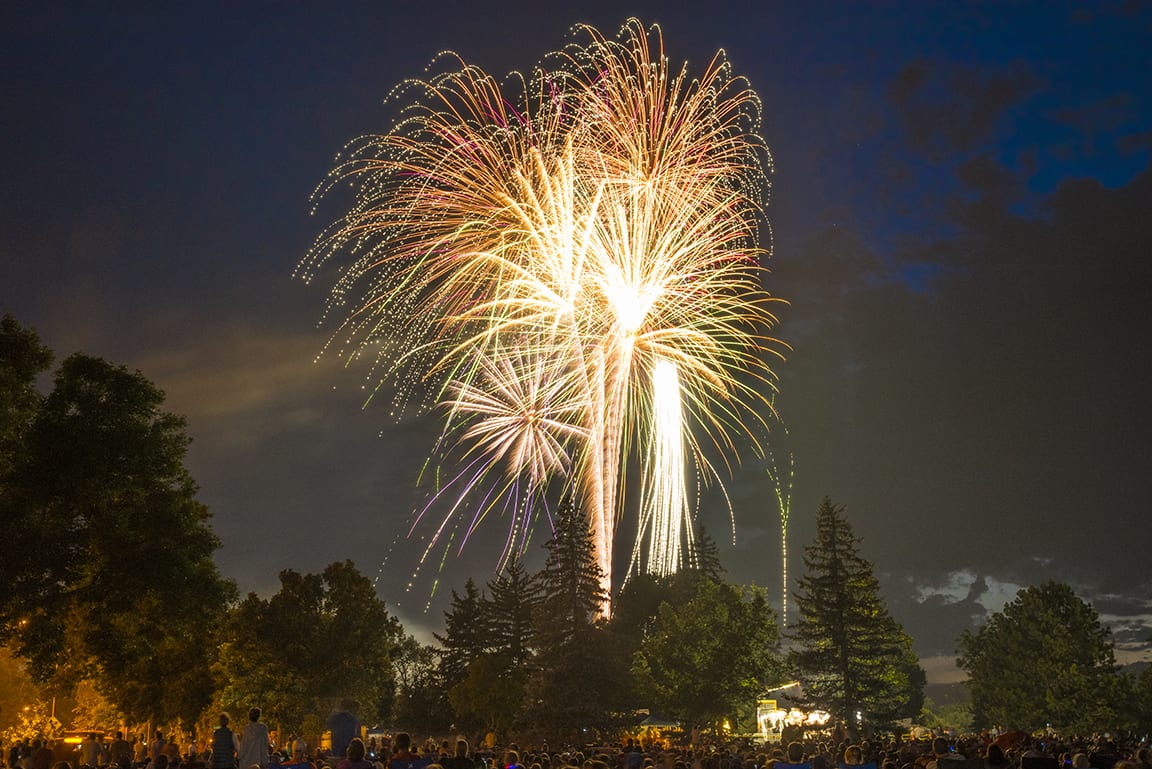 Independence Day fireworks over Sheldon Lake, from City Park in Fort Collins, CO. Photo by: Brendan Bombaci
Las Animas County
Trinidad will host a wide variety of activities along historic Main Street with fireworks to end the day.
Lincoln County
The Lincoln County fireworks display will take place in Limon at the Gaskill Football field at dusk on July 4th. There will also be a community BBQ hosted by the Chamber of Commerce.
Logan County
Sterling will host festivities all weekend long with a golf tournament, 5k run, ice cream social, and a fireworks display all at Sterling Lake.
Morgan County
The 66th annual Brush 4th of July parade and rodeo will take place at the Brush Fairgrounds from July 2nd through July 4th. Plus, enjoy a fireworks display at 9:30 p.m.
Moffat County
Craig will host an Independence Day parade along with fireworks on July 4th. There will also be the annual Ride n' Tie Days rodeo at the Moffat County Fairgrounds on July 3rd and 4th,
Mineral County
Creede will host their Independence Day celebration on Sunday July 3rd and Monday the 4th. Sunday will feature the start of many mining competition events, street vendors, and a community dance at Elk Lodge. On Monday, there will be more mining events, a parade at 10am, a ChuteOut rodeo at 6:30pm, and finally fireworks at dusk.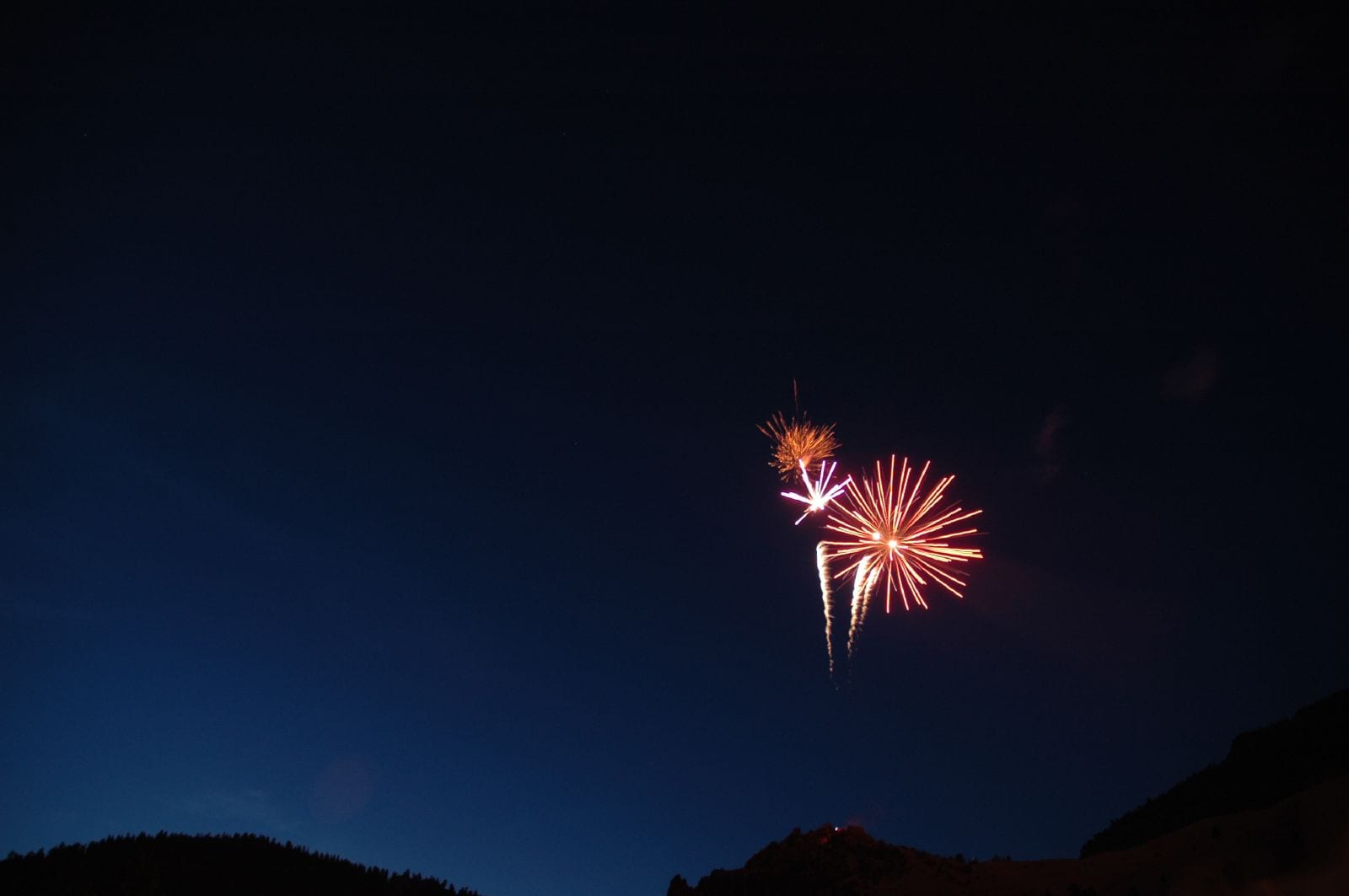 Fireworks celebrating the 4th of July in Creede, CO. Photo by: davedude
Prowers County
The Prowers County fireworks display will take place in Lamar at the Fairgrounds at dusk on July 4th.
Rio Blanco County
Meeker will host its long-running tradition of the Range Call, the oldest continuously running rodeo in Colorado. The festival is celebrated with a parade, rodeo, fireworks, and other activities and reenactments around town. It will take place on Main Street on July 4th, with fireworks at dusk and a great view of the showing from City Park.
Rangely will host a fireworks display at the Kenney Reservoir at dusk on July 4th. The weekend will also feature a pie-baking contest, golf and cornhole tournaments, and a surf-n-turf meal.
Sedgwick County
Julesburg will host the JVFD fireworks display on July 4th at dusk. The location will be at Cedar and 10th streets.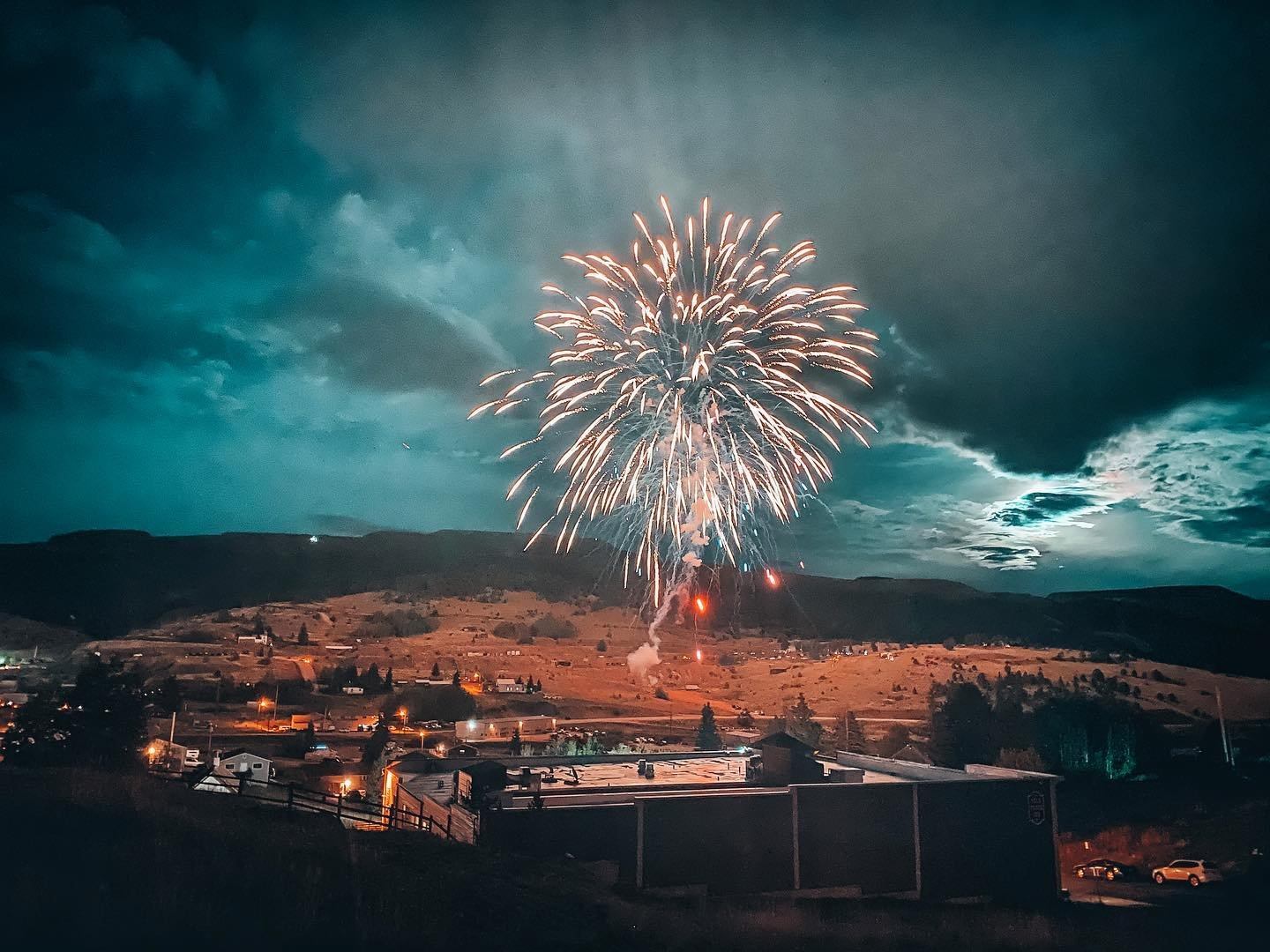 Cripple Creek, CO fireworks show. Photo by: facebook.com/visitcripplecreek
Teller County
The town of Cripple Creek will host its annual fireworks display on July 4th with fireworks set off from the Old Homestead House.
Woodland Park holds their annual Old Fashioned 4th of July festival in Memorial Park. The day is complete with cocktails, food vendors, and live entertainment. While there are no fireworks at this event, there will be multiple shows in the Colorado Springs area that will be visible from the park.
Weld County
Brighton's annual Independence Day celebration will only host a fireworks display at dusk on July 4th.
Firestone will host their 20th annual 4th at Firestone event at Miners Park on July 4th. The parade through downtown starts at 10am, followed by a family-friendly festival in the park until 3pm. Return in the evening for a beer garden, food trucks, and fireworks at 9:30pm.
Fort Lupton will put on a fireworks display on July 2nd at 9:30 pm at the Fort Lupton Rec Center. From 4-8pm before the show, the community park will be filled with kids' activities, a beer garden, food trucks, and live country music.
Greeley's fireworks display will take place on July 4th at 9:30 pm at Island Grove Park. Don't miss the 100th anniversary of the Greeley Stampede Parade featuring over 120 local organizations' floats, a flyover, and a stampede of longhorns.
Keensburg's 4th of July fireworks display will be held at the center of Keensburg for a small town celebration of the holiday.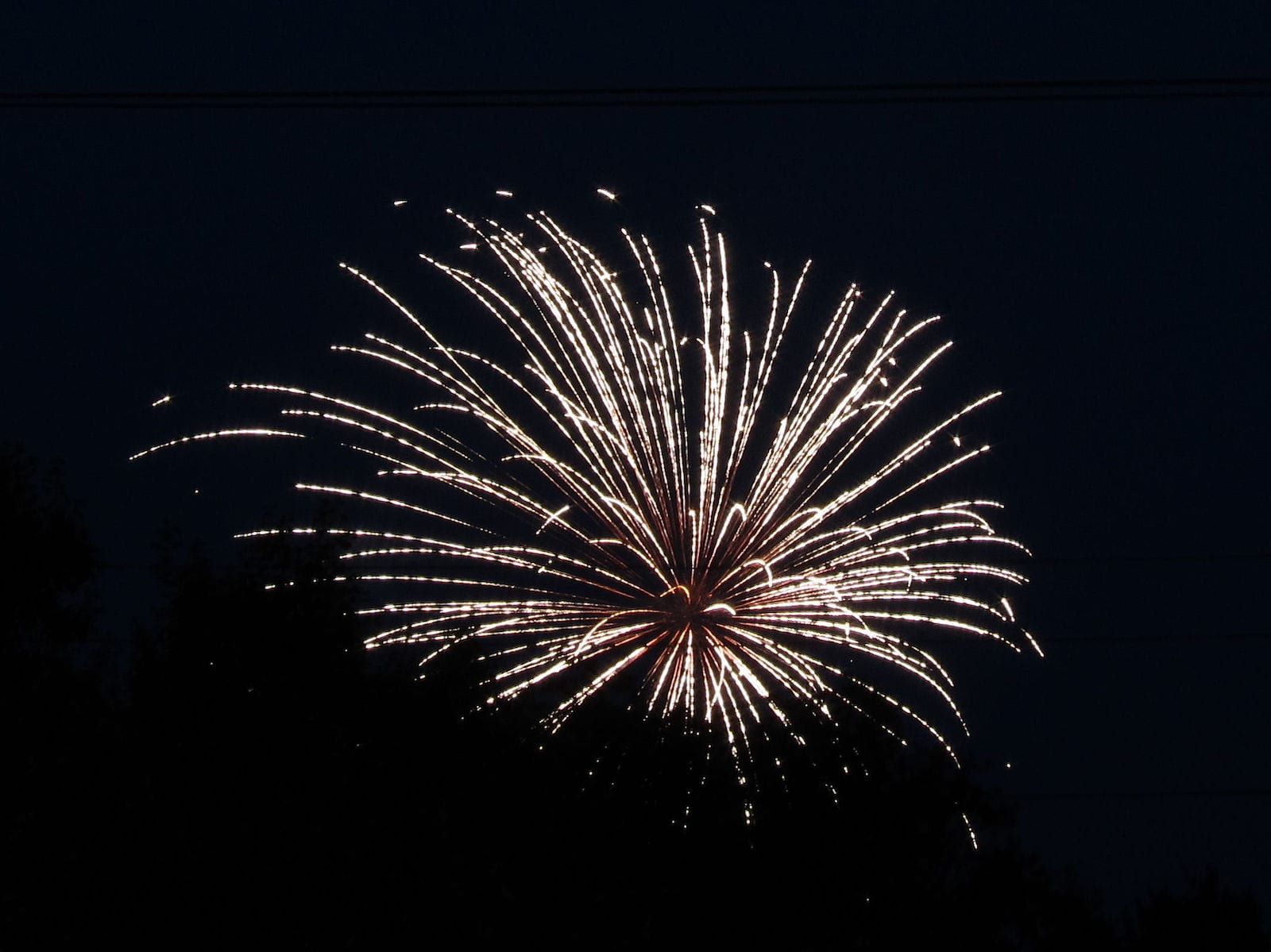 Broadmoor fireworks show for Fourth of July! Photo by: Jim Grey
Once your epic fourth of July celebrations come to a close, consider planning your next summer adventure. We've curated a list of some fun things to do in July throughout the Centennial State.